After sharing my Karura Walk post, a lot of people made comments about the hoodie I had on and were even more excited to find out that the eye at the back was actually crocheted. As requested I'm sharing the crochet eye applique pattern for free below.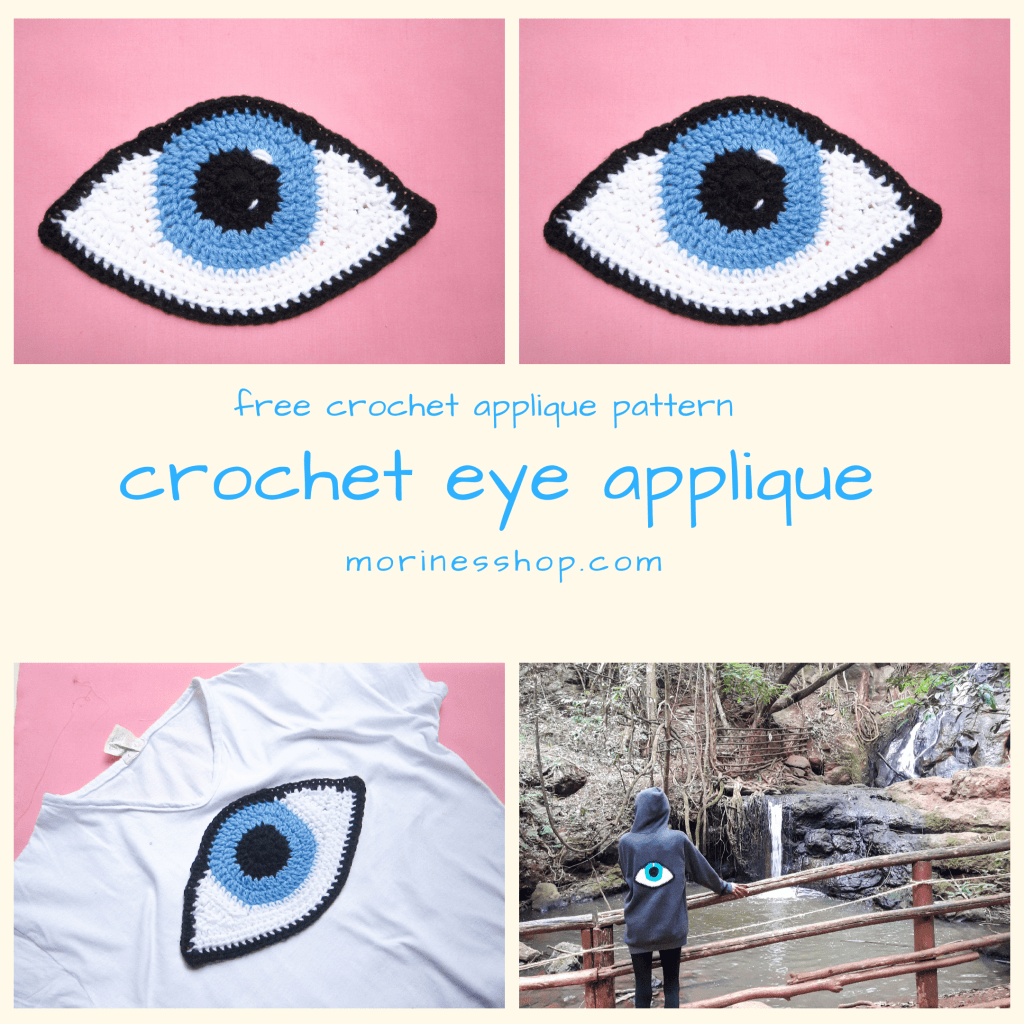 Inspiration Behind The Pattern.
The inspiration for this pattern came from the book 1984 by George Orwell. If you haven't read it I highly recommend that you do. I'm not going to give anything away but the phrase "Big brother is watching" has always conjured up this image and I'm excited it came out exactly as i had pictured it (which doesn't always happen when designing patterns).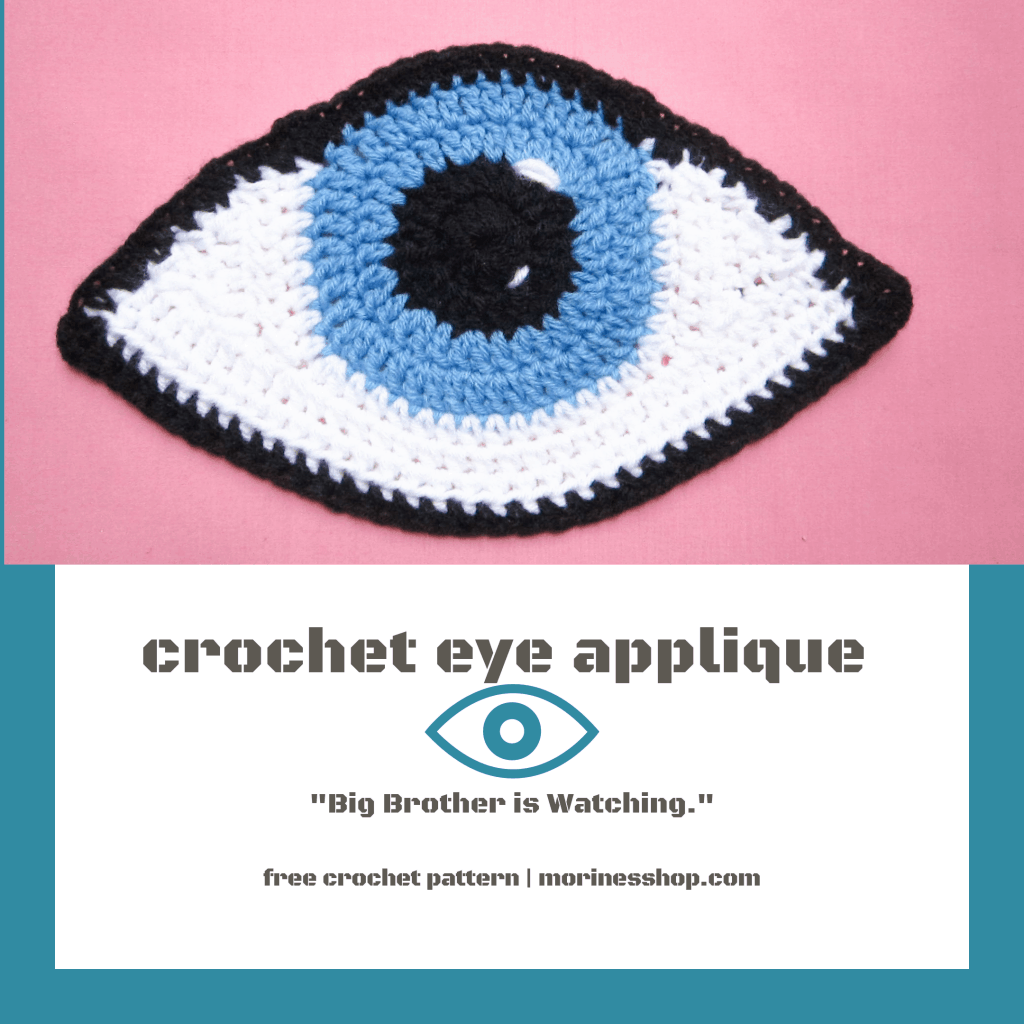 Crochet Eye Applique Pattern.
This is a simple, beginner friendly crochet applique pattern. I've provided pictures and detailed instructions to guide you through it. This crochet eye applique calls for worsted weight acrylic yarn and a 4.5 mm crochet hook.
Materials:
Worsted weight yarn in the colours blue, black and white
4.5 mm crochet hook
Stitch markers
Darning needle
Scissors


Stitches and terms used:
dc (double crochet)
hdc (half-double crochet)
inc (increase)
hdc2tog (half-double crochet 2 stitches together)
hdc3tog (half-double crochet 3 stitches together)
sl st (slip stitch)
ch (chain)
Notes:
The pattern is worked in both joined rounds and back and forth rows in some parts.
Ch 1 and ch 2 at the beginning of rows do not count as stitches.
Join the end of the round is made using slip stitch to the first stitch.
Gauge: 8 stitches and 4 rows in dc = 2″
Finished measurements: approximately 8.5 inches by 5.25 inches at widest points
Starting with a magic circle, follow the pattern below. If you're not familiar with or have trouble making the magic circle, find the tutorial HERE.
a.) Pupil & Iris.
| Round | Instruction | Stitch Count |
| --- | --- | --- |
| 1 Black | Ch 2, 11 dc across. Join. | 11 |
| 2 | Ch 2, (inc) 11 times. Join. Fasten off. | 22 |
| 3 Blue | Ch 2, (inc, dc) 11 times. Join. | 33 |
| 4 | Ch 2, (2 dc, inc) 11 times. Join. Fasten off. | 44 |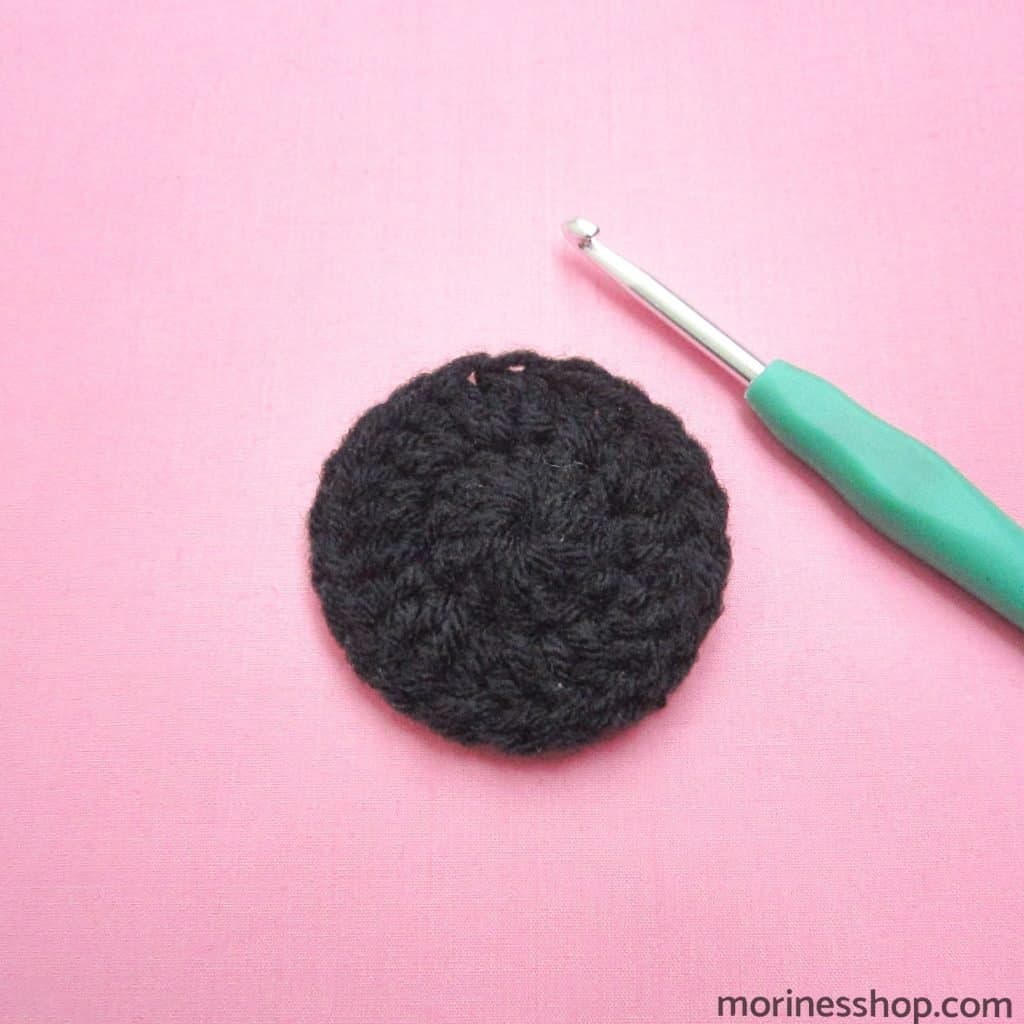 b.) Sclera (White Part Of The Eye).
At this point, we're going to work the white part of the eye. To do that, take the stitch markers and mark sections as shown below. Put a stitch marker in one stitch and count 13 stitches from that marker and place another stitch marker in the next stitch.
Starting from the stitch with marker to the left facing you, work the stitches below up to the marker to the right.
Rnd 5: Ch 1, hdc in same stitch and in the next 7 sts, inc, hdc in next 13 sts, inc, hdc in next 8 sts. Leave the rest of the stitches unworked. (33 sts)
Rnd 6: Ch 1, turn, hdc2tog, hdc in next 5 sts, hdc2tog. (7 sts)
Rnd 7: Ch 1, turn, hdc2tog, hdc in next 3 sts, hdc2tog. (5 sts)
Rnd 8: Ch 1, turn, hdc2tog, hdc, hdc2tog. (3 sts)
Rnd 9: Ch 1, turn, hdc3tog. Fasten off. (1 st)
Now, we'll work on the other corner. Place a stitch marker on the first stitch of rnd 5 and another on the 9th st. You'll be working the next rnds in these 9 sts.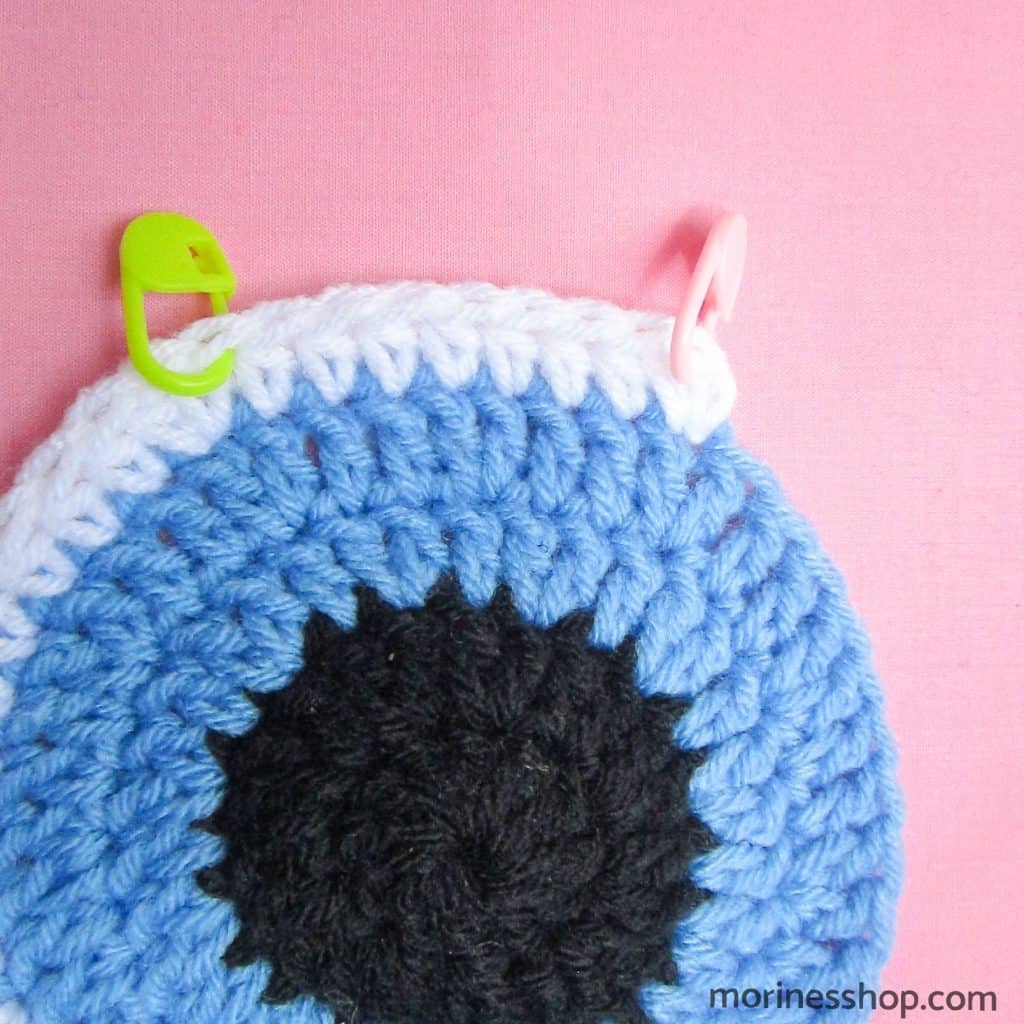 Rnd 10-13: With the wrong side facing you, repeat rnd 6-9 but do not fasten off at the end of rnd 13.
Rnd 14: Ch 1, work 8 hdc evenly spaced along the edge of rnd 10-13 stitches, 2 hdc at the base of rnd 10, hdc in the next 15 sts, 2 hdc in the next st (which is at the base of rnd 6, then work 8 hdc evenly spaced along the edge of rnd 6-9. (35 sts)
Rnd 15: Ch 1, turn, hdc in each st across. (35 sts)
c.) Outline.
Rnd 16: With right side facing, Join black yarn in the first st of rnd 15. Ch 1, (hdc, dc, hdc) in same st, 13 hdc evenly across the edge, 2 dc in the base of rnd 5, hdc in next 13 sts, 2 dc at the base of rnd 5, 13 hdc evenly across the edge, (hdc, dc, hdc) in last st of rnd 15, hdc in each of the remaining sts. Fasten off. (82 sts)
Using your darning needle and some white yarn, add some detail to the eye.
And that's it! Your crochet eye applique is ready for use. It's a good size to add to tops and hoodies and with Halloween just around the corner, it's also perfect for costumes and even your candy collection bag!
Please leave a comment below or send me an email with your remarks or questions about this pattern.
Get more of my patterns on my Ravelry, LoveCrafts & Morine's Shop Store. Or you can just show your support directly by buying me a coffee on my Ko-fi page.
I'd also love to see your versions of this crochet eye applique and how you've used them. Tag me on Instagram @morines_shop or use #morinesshop
Last but not least, be sure to sign up for my crochet newsletter to keep up to date with new patterns, tutorials and giveaways as they are released.