The magic circle crochet is a technique that is very efficient if you don't want a hole in the center of your round, especially when making hats, amigurumi and even granny squares!
A poorly secured magic circle can cause your work to come undone from the middle. I've managed to prevent that with my makes by using the triple tuck method to secure it. But first, let's it!
Pin it for later!
Materials
For this tutorial I used:
5mm crochet hook
Worsted weight yarn
Scissors
Darning needle
1.) How To Crochet a Magic Circle.
For your crochet magic circle, start off by twisting your yarn in the shape of the number '6' making sure the working yarn is at the top of the '6'. Hold where the 2 yarn have intersected.
Insert your crochet hook into the loop and pull up the working yarn. Yarn over and chain 1. Work a total of 6 single crochet into the ring.
Pull the end of the yarn tail to close off the hole. You'll have an even longer tail end. Don't cut this off. We'll be using it to secure the magic circle later.
2. How To Secure The Magic Circle.
I usually work 3 rows of the pattern I'm using before I stop and secure the magic circle. This is the fun part. I use a method I like to call the Triple Tuck Method.
To close a magic circle, take your darning needle and thread the long tail end. If you hadn't closed off your circle tight enough, now is the time to do it. Once you pull it tightly, you can now close your magic circle.
The first tuck goes in row 1 in the opposite direction to the yarn end. Skip 1 stitch and insert your needle through the next couple of stitches, pull. Second tuck, goes in row 2 in the opposite direction of the first tuck and third tuck is still on the same row but in the opposite direction. Skip 1 stitch and insert through a couple of the next stitches and pull through.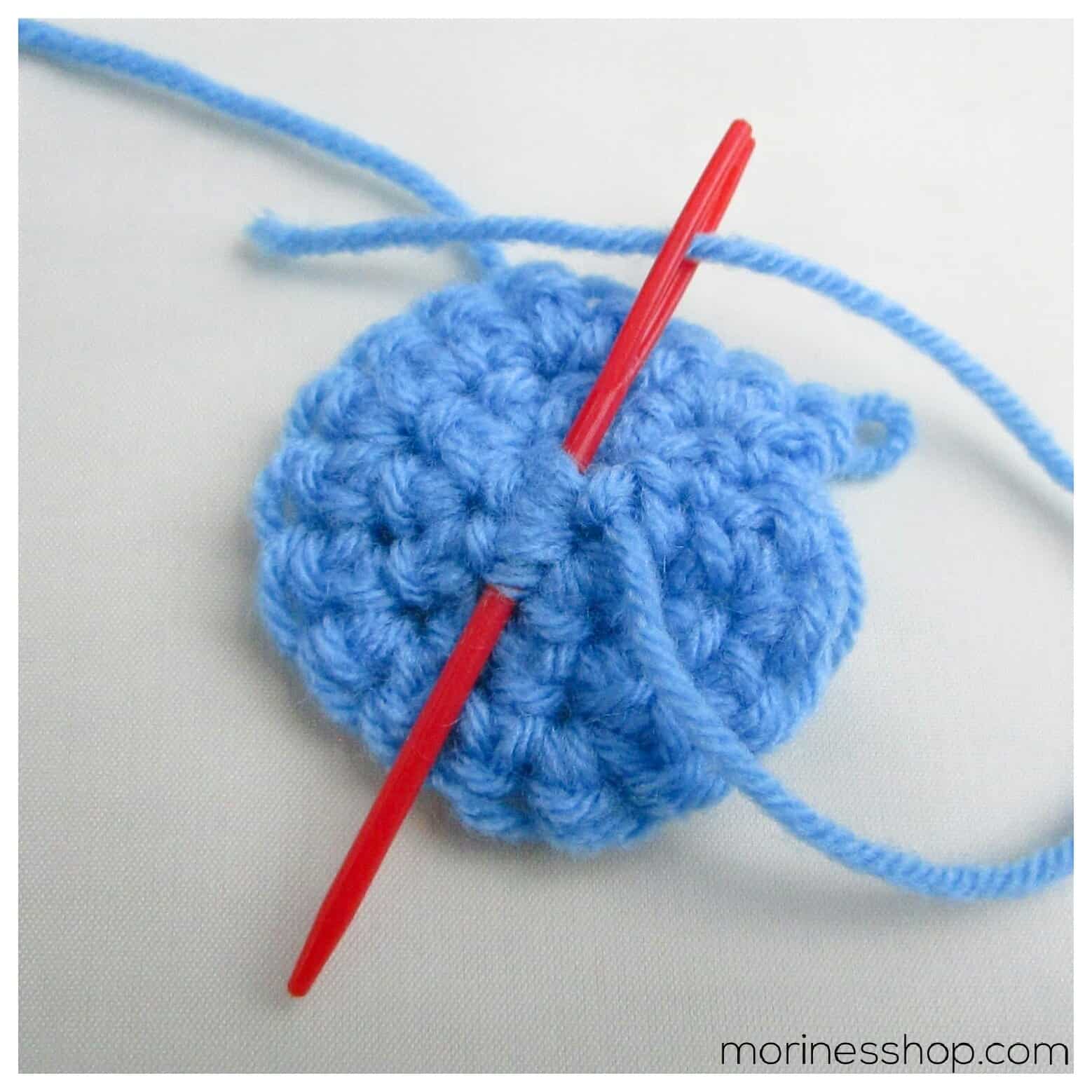 Go Forth And Tuck!!!
Just remember that every tuck goes in the opposite direction of the previous one and to skip a stitch before a tuck. And that's it, simple but a project saving formula. Using the triple tuck method ensures that the magic circle is as tight as can be. Above all, it secures the circle in such a way that it won't stretch and open up either immediately or over time. In addition to securing the circle, this method is also great for weaving in your ends!
Projects To Try Out The Magic Circle:
Kavaluku- free crochet bunny amigurumi pattern
-
Kavaluku is an adorable crochet bunny amigurumi pattern. Apart from being great for Easter, it would make the most adorable spring baby gift.
Anguro- Free Crochet Pig Amigurumi Pattern
-
This free pattern for a cute crochet pig is sure to be a favourite among the little ones, but worth considering for your own as well.
Crochet Rainbow Bee- a Free Crochet Bee Pattern
-
I've been working on some versions of my original crochet bee pattern, Heimlich the Bee, for some time now. But a Crochet Rainbow Bee?? I know what most of you are thinking, "She should really cut it out with the bees now". Well, before I do, I've got one more for you(I think). If you're …
Please leave a comment or send me an email if you have any questions about this technique.
Until next post, go forth and tuck my friends!
I'd love to know if you used this method in your makes! Tag me on Instagram @morines_shop or use #morinesshop
Other Crochet Tutorials: