I'm so excited to finally be able to share this crochet bee pattern with you! Heimlich the Bee is the first amigurumi pattern that I ever designed. It's only fitting for it to be the first amigurumi pattern I share with you. At the time, I tried looking for a bee pattern in the specified size but I couldn't find any so I decided to design one and I love how it turned out! Isn't Heimlich just the cutest?
This post may contain affiliate links. This means that when certain links are clicked on and a purchase is made, I may earn a small commission. Please read the disclosure policy for more information.
Pin It Now, Make It Later!
Find a printer-friendly PDF version of Heimlich the Bee in my Ravelry, LoveCrafts and Morine's Shop Store as well. The PDF pattern is printer-friendly and ad-free.
Behind The Name.
I know you're wondering how I came up with that name. At first, it was just called the crochet bee pattern but the more I made it, the more it started reminding me of Heimlich the Caterpillar from 'A Bug's Life', the animated movie. Especially his tiny wings! "I am a cute little bumblebee! Here I come!" I started calling him Heimlich and the name just stuck. And it suits him so well, don't you think? So, without further ado, here's Heimlich the Bee's Pattern.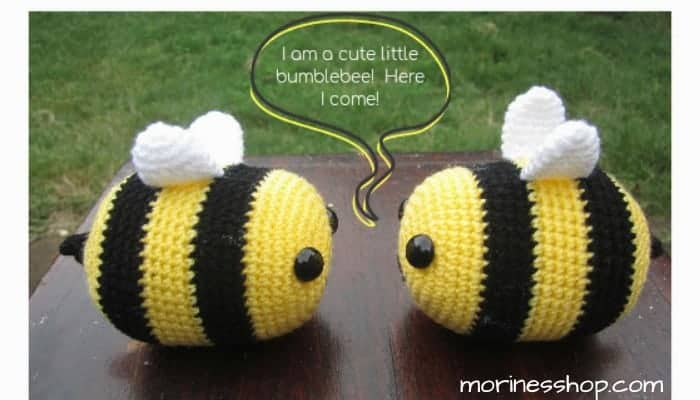 Crochet Heimlich the Bee Pattern.
This is a simple, beginner friendly amigurumi pattern. Only the wings require sewing and it's also a great way to practice colour changes, increases and decreases. For this beautiful pattern, I used fingering weight acrylic yarn and plastic safety eyes. I recommend slowly stuffing as you go.
Materials:
Fingering weight yarn in the colours yellow, black and white
2.5mm crochet hook
12mm safety eyes
Stuffing
Stitch marker
Darning needle
Scissors
Stitches and terms used:
sc (single crochet)
inc (increase)
dec (decrease)
slst (slip stitch)
Notes:
The pattern is worked in continuous rounds.
For colour changes, when working last stitch in old colour, work as typical single crochet until you have 2 loops left on your hook. Use the new colour to yarn over and pull through both loops.
When working colour changes, do not cut the old yarn. Simply drop the colour you are not using and pick it back up when you need it again in the following rows.
Finished Dimensions: approximately 3.5 inches long by 2.5 inches wide. The pattern is very versatile though. I used velvet yarn from Osona Yarns and a 3.5mm crochet hook which resulted in Heimlich being 7 inches long and 5 inches wide! Twice the size.
You can play around with different yarn weights and hook sizes to get bigger or smaller sizes.
Instructions
Start by making a magic circle and follow the tables below. If you have trouble making the magic circle, you can check out the tutorial here.
a.) Body.
Round
Instruction
Stitch Count
1 Yellow
8 sc
8
2
(inc) 8 times
16
3
(sc, inc) 8 times
24
4
(2 sc, inc) 8 times
32
5
(3 sc, inc) 8 times
40
6
(4 sc, inc) 8 times
48
7-10
48 sc
48
Insert safety eyes between rnds 5 and 6
11-14 Black
48 sc
48
15-19 Yellow
48 sc
48
20-23 Black
48 sc
48
24-25 Yellow
48 sc
48
26
(4 sc, dec) 8 times
40
27
(3 sc, dec) 8 times
32
28
(2 sc, dec) 8 times
24
29
(sc, dec) 8 times
16
30 Black
(dec) 8 times
8
31-32
8 sc
8
33
(dec) 4 times
4
Fasten off and leave tail to further sew the stinger closed.
b.) Wings ( Make 2)
Round
Instruction
Stitch Count
1
6 sc
6
2
(inc) 6 times
12
3-7
12 sc
12
Fold in half and work through both layers.
8
6 sc
6
Fasten off, leaving a long tail.
Sew the wings to the body in the yellow stripe between the two black stripes.
And that's it for Heimlich. All cute, and squishy and so awesome! He makes for an adorable addition to kids toys, decorating your space, a baby mobile and so much more! Also, a great gift!!… I'm going to stop now.
Until next post, BEE well.. and have a BEE-autiful day wink wink. (Where are the emojis on this thing……)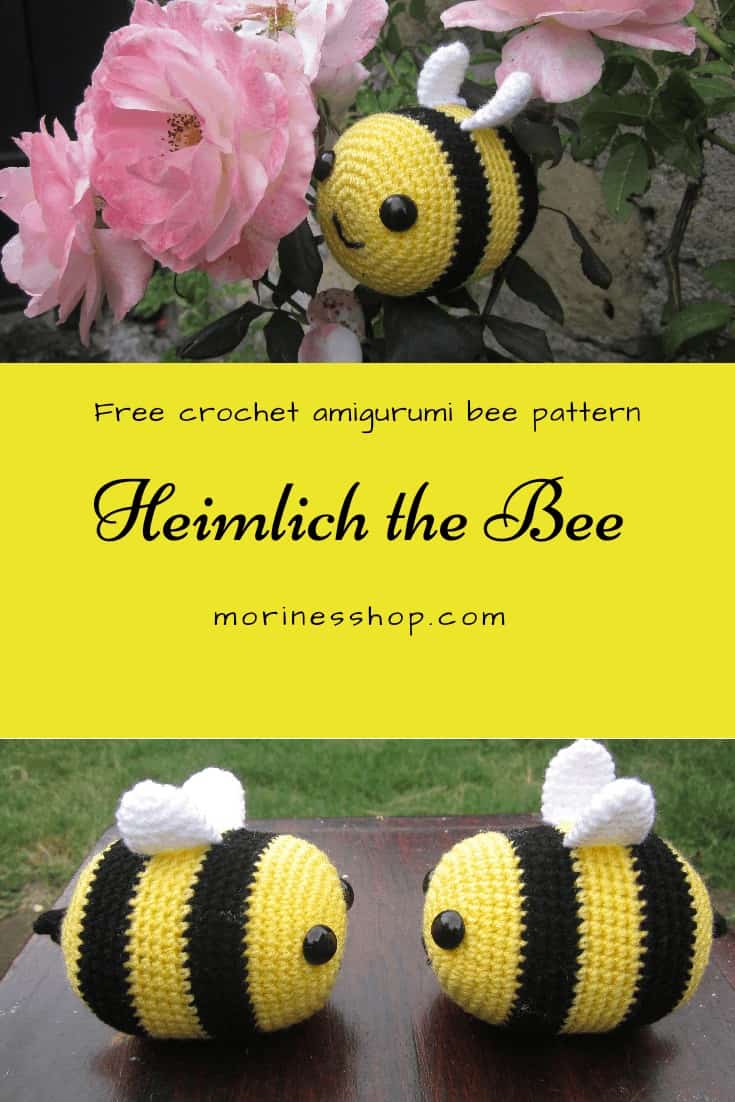 Please leave a comment below or send me an email  with your remarks or questions  about this pattern.
Get more of my patterns on my Store my Ravelry and LoveCrafts Shops. Sales from these patterns go toward saving up for a laptop. Or you can just show your support directly by buying me a coffee on my Ko-fi page.
P.S. This pattern is for personal use only. You may make as many of these crochet bees as you'd like. However, if you choose to do so, please credit me as the designer and provide a link to the pattern. Thank you!
I'd also love to see the crochet bees you make using this pattern. Tag me on Instagram @morines_shop or use #morinesshop #heimlichthebee
Last but not least, be sure to sign up for my newsletter to keep up to date with new patterns, tutorials and giveaways as they are released.
Sharing is Caring!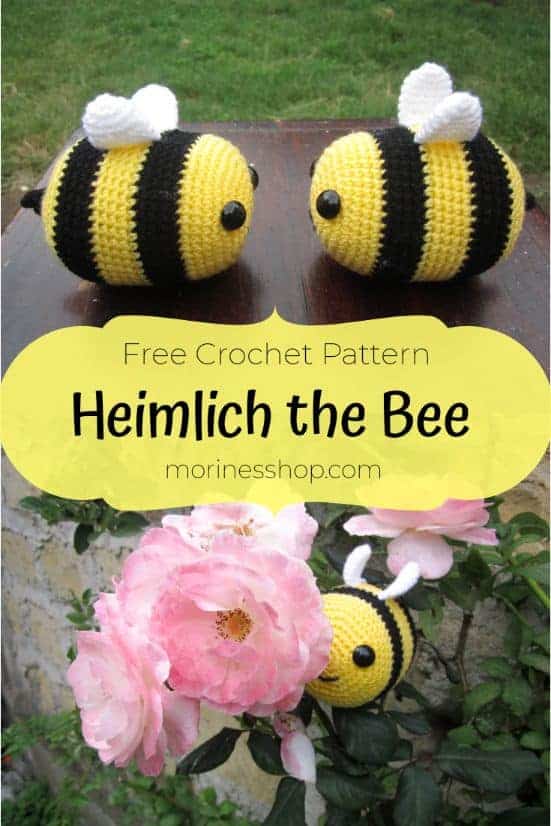 Other amigurumi patterns:
Related Posts