I've been working on some versions of my original crochet bee pattern, Heimlich the Bee, for some time now. But a Crochet Rainbow Bee?? I know what most of you are thinking, "She should really cut it out with the bees now". Well, before I do, I've got one more for you(I think). If you're new here, you should also check out ZomBee who is all creepy Halloween goodness.
This post may contain affiliate links. This means that when certain links are clicked on and a purchase is made, I may earn a small commission. Please read the disclosure policy for more information.
Find a printer-friendly PDF version of the Rainbow Bee in my Ravelry, LoveCrafts and Morine's Shop Store as well. The PDF pattern is printer-friendly and ad-free.
Inspiration Behind Rainbow Bee.
I wanted this crochet bee to look as if it's wearing a crochet sweater and I think we have a winner here. Being Kenyan, our weather patterns are vastly different than what most westerners are familiar with. However, when I think of the beginning of Spring, I compare it to the first days of the rain season here.
There's something so magical about everything coming back to life, colorful flowers staring to bloom and the crisp air once it starts making an appearance. The tiny buds starting to pop? We're here for it. Bumblebees and butterflies? Bring them on. If you're all about the spring life then you should definitely also check out Heimlich the Bee!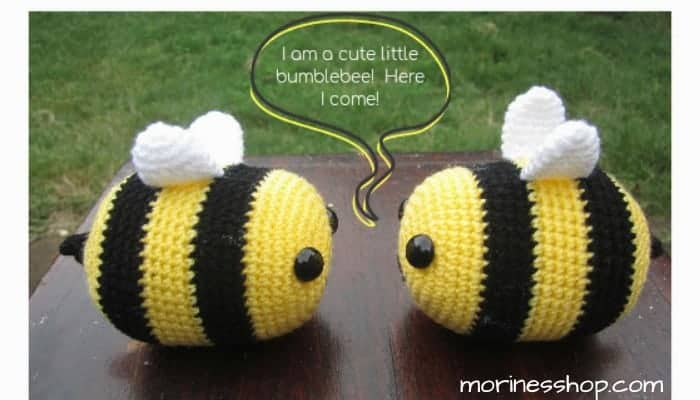 About This Crochet Bee.
Rainbow Bee uses moss stitch to achieve beautiful colourwork through most of the body which gives an illusion of the bee wearing a sweater. I've always loved moss stitch. After some experimenting, I've managed to use this technique on dozens of dolls and a couple of designs. Apart from Heimlich in Winter, The Magical Owl Keychain uses similar technique as well.
For this pattern, I used 2.5 mm crochet hook and fingering weight acrylic yarn. If you want a bigger crochet bee, you can use thicker yarn with corresponding hook size.
More moss stitch patterns
Rainbow Bee Pattern.
Materials:
Fingering weight yarn in the colours yellow, black, orange, red and purple
2.5mm crochet hook
12mm blue safety eyes
Stuffing
Stitch marker
Darning needle
Scissors
Stitches & Terms Used:
sc- single crochet
inc- increase
dec- decrease
sl st- slip stitch
deep sc- deep single crochet
rpt- repeat
Notes:
The pattern is worked in continuous rounds.
Deep sc is worked in the skipped sc of the previous rnd.
For colour changes, when working last stitch in old colour, work as typical single crochet until you have 2 loops left on your hook. Use the new colour to yarn over and pull through both loops. If you'll still need the old colour, do not cut the old colour. Simply drop the colour you are not using and pick it back up when you need it again in the following rows.
Finished Dimensions: approximately 3.5 inches long by 2.5 inches wide
Instructions:
1. Head- yellow & black
Follow as for Heimlich the Bee from Rnd 1– Rnd 12
Insert eyes between rnds 5 & 6. Add eyelash detailing using black yarn. Make sure the beginning of your rnds is at the bottom.
2. Sweater- rainbow colours & grey
Front this point you'll interchange between rainbow colours and grey.
The colour to use is indicated at the beginning of each rnd. Refer to the notes on how to make colour changes.
This is also the moss stitch & deep sc potion of the pattern
Fasten off each rainbow colour at the end of the rnd.
Rnd 13: red, (sc, ch 1, sk next st) 24 times (48 sts)
Rnd 14: grey, (sc, deep sc in next st) 24 times (48 sts)
Rnd 15: orange rpt rnd 13
Rnd 16: grey rpt rnd 14
| Round | Colour | Rnd rpt |
| --- | --- | --- |
| 17 | neon yellow | 13 |
| 18 | grey | 14 |
| 19 | neon green | 13 |
| 20 | grey | 14 |
| 21 | blue | 13 |
| 22 | grey | 14 |
| 23 | hot pink | 13 |
| 24 | grey | 14 |
| 25 | purple | 13 |
| 26 | grey | 14 |
3. Bottom & stinger- yellow & black
Rnd 27-34: Follow as for Heimlich the Bee from Rnd 26- Rnd 33
4. Wings (make 2)- white
Follow the wings instructions for Heimlich the Bee
And there it is! A cute, squishy and colourful Crochet Rainbow Bee!
Please leave a comment below or send me an email  with your remarks or questions  about this pattern.
Get more of my patterns on my Store my Ravelry and LoveCrafts Shops. Sales from these patterns go toward saving up for a laptop. Or you can just show your support directly by buying me a coffee on my Ko-fi page.
Did you enjoy learning how to crochet a bee?  I'd love to see your creations!  Please share your projects with me on Instagram.  For more amigurumi patterns, please visit the amigurumi section of the blog.
More amigurumi patterns: