Ever wanted to crochet a Christmas ornament or one of those cute teethers but got intimidated when you found out you had to crochet around a ring? You're not alone. It was daunting for me too at the beginning but there is really nothing to it.
Pin It Now, Read It Later.
There are a lot of similarities between working around a ring and working a magic circle! They both involve circular shapes and just a bit a practice to get the hung of. Grab your materials and let's get working.
How To Crochet Around a Ring.
Materials:
Yarn
Hook
A circular ring of your prefered size and thickness.
Scissors
Darning needle
Stitches and Terms Used:
ch (chain)
sl st (slip stitch)
sc (single crochet)
rpt (repeat)
Notes:
For this tutorial, I've used 70mm (2.75″) wooden ring but the instructions work for rings of any size and/or thickness.
Instructions
1.Using your choice yarn and hook, make a slip knot
2. Remove chain from the hook and pass it through the middle of the ring and insert your hook back into the ch.
3. Yarn over and pull through the loop on your hook. Ch 1 made.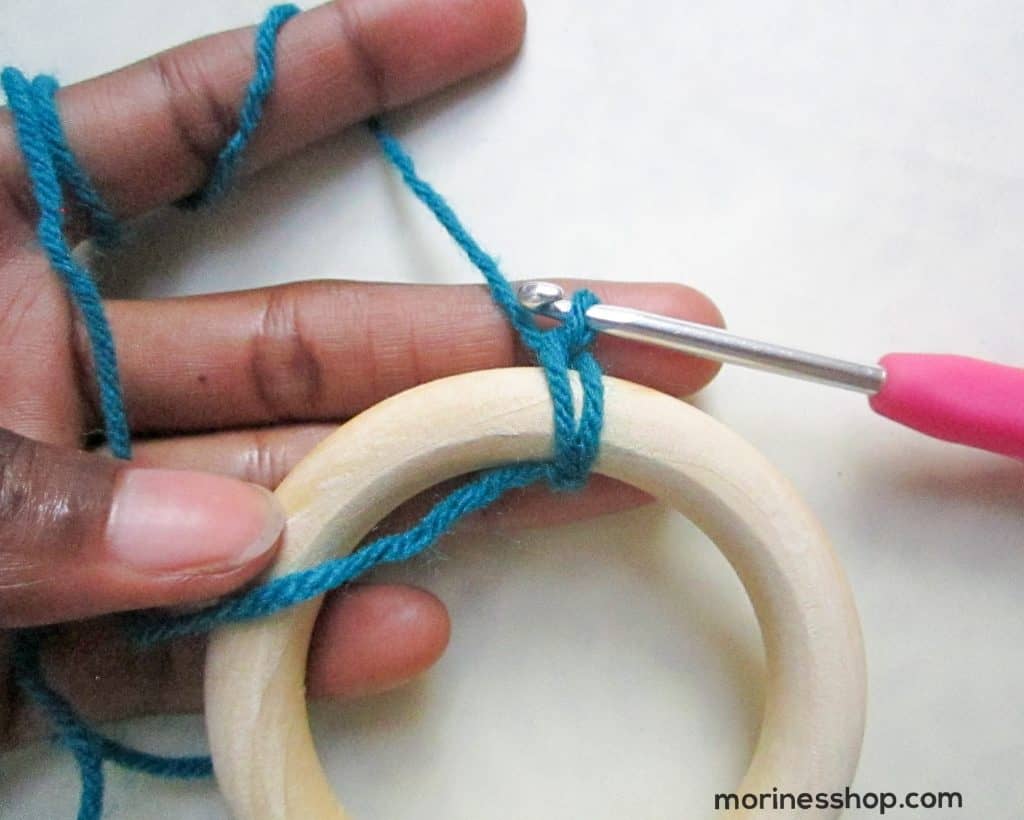 4. Insert your hook through the center of the ring, yarn over, pull through the ring. Yarn over and pull through both loops on hook.
5. Repeat the previous step until you have the desired number of stitches.
6. Fasten off or slip stitch to first stitch made, depending on the pattern. Weave in the ends.
And that's it! the possibilities for this application are endless!
Patterns To Try Out:
If you're looking for projects to practice further, these fit the bill:-
I'd love to see what you make using this tutorial! Be sure to tag me @morines_shop on Instagram and use #morinesshop
Sharing is Caring!
Other Crochet Tutorials: