A C2C crochet pattern works up really fast so it's no surprise that they're popular. In this post, I'll provide you with a detailed tutorial on how to read and make a graph for a c2c crochet pattern.
How to C2C Crochet.
Before we get to c2c crochet graphs, you must first learn the c2c crochet basics. Check out my complete guide to corner to corner crochet tutorial. Once you've mastered that, come back here and learn how to read a c2c crochet graph.
If you want to learn more tips & tricks in c2c crochet, check out this complete 10 page guide. It includes all the details on corner to corner crochet including the crochet wall hanging pattern below!
C2C crochet (orner to corner crochet) is worked diagonally from one corner of a square or rectangle to the other. It uses double crochet stitch but can be worked using other stitches or a combination of stitches.
For more details on c2c crochet basics, please visit my blog post on c2c crochet, a complete guide.
How to read a C2C crochet pattern
Working a pattern from a graph can seem daunting and time consuming but it's one of my favourites.
Similar to intarsia crochet, most c2c patterns will include a combination of a graph and written instructions. Each square in a graph represents 1 c2c block. 1 block = ch-3 and 3 dc sts
Each project begins in the lower right hand corner of the graph. From there, you will increase by 1 block per row moving diagonally. You will continue in this way until the longest row(s) of the pattern is complete.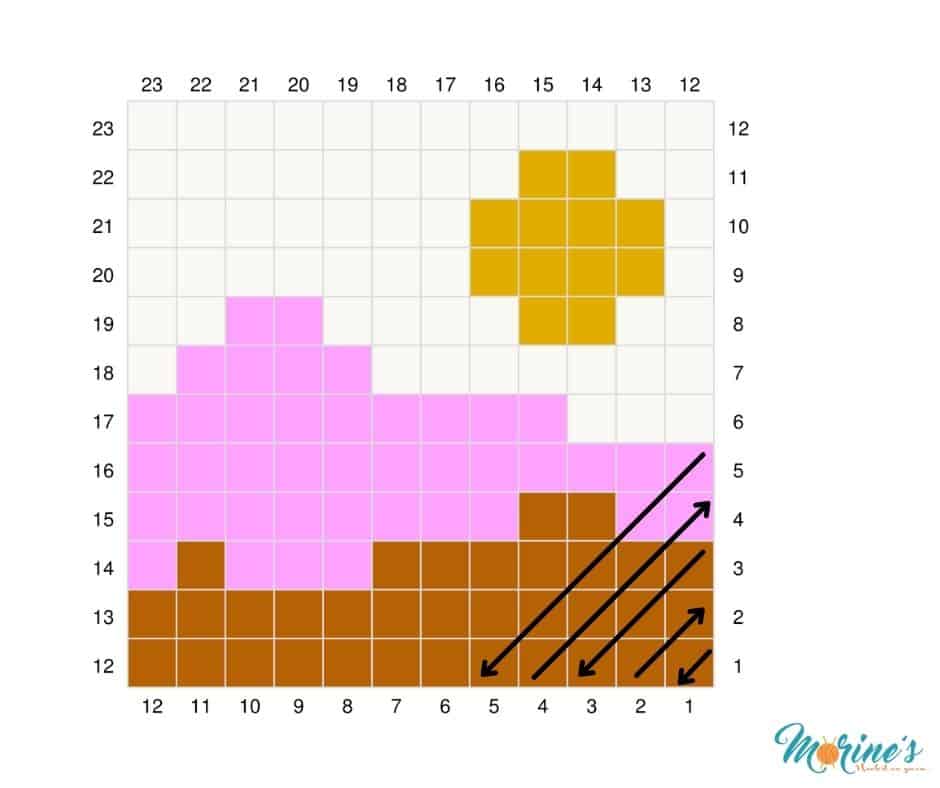 At this point, you'll begin decreasing by 1 block per row until you've reached the final block in the lower left hand side of the graph.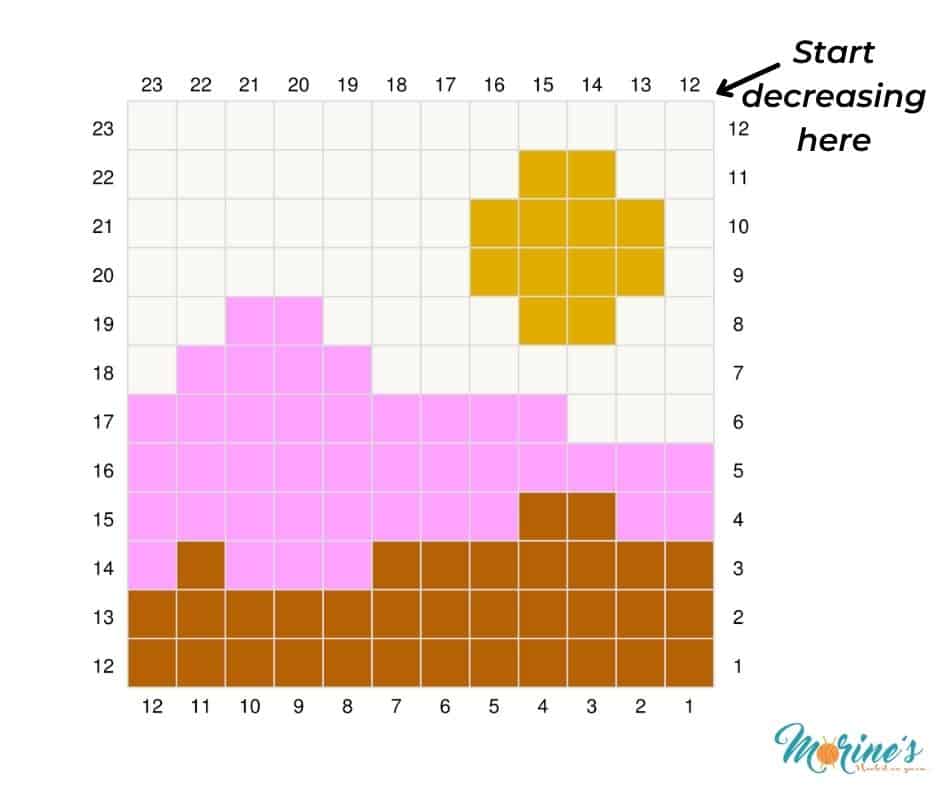 Crochet C2C Wall hanging
Materials:
DK yarn in 4 colours:

Rust
Baby pink
Mustard
Cream

4mm crochet hook
Darning needle
A pair of scissors
Stitches & terms used:
ch(s)= chain(s)
stitch(s)= stitch(es)
sl st(s)= slip stitch(es)
dc= double crochet
Pattern:
You will use the chart provided. For the detailed pattern, including
The 'x' marks the row you are currently working on. I suggest printing out c2c crochet pattern graphs and marking off rows as you progress.
You will continue this way until you reach the longest row i.e. Row 12. Row 13 marks the beginning of the decrease rows. Having trouble with changing colours? Read this post to find out how to change colours.
Continue decreasing until the end of the graph. You now have a complete c2c crochet square! Add tassels and a string for hanging and you have yourself a neat little c2c crochet wall hanging!
Did you enjoy learning how to read a corner to corner crochet graph? I'd love to see your creations using this tutorial! Please share your projects with me on Instagram.
More C2C Crochet Resources:
More crochet tutorials: